Prince George's County Divorce Lawyer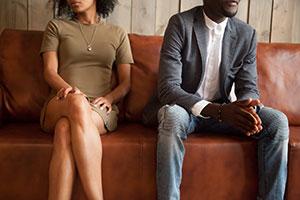 For many people, separation and divorce can be destabilizing, fraught with uncertainty, fear, and a loss of dignity and direction. But divorce doesn't need to be disastrous nor undignified. Let the Law Office of Robin Rucker Gaillard, LLC, provide options and planning to guide you through your divorce. Whether consensual or contested, or whether it involves property disposition or other family law issues, you can rely on us for sound advice and zealous advocacy every step of the way. When faced with divorce you want an experienced and motivated attorney who will help you:
formulate a workable plan for moving forward
decide which type of divorce–limited or absolute–is right for you
determine whether annulment applies to your case or if your marriage is valid
identify ground(s) for divorce: adultery, separation, desertion, cruelty, 12 months
protect assets and guard against losing everything you have worked for
navigate with dignity and assurance, the change that divorce brings
From service of process to the final divorce decree, Attorney Gaillard and her team will help shepherd you through the legal process, explain options for resolution of disputed matters, and clarify the intricacies associated with complex concepts such as an absolute divorce, a limited divorce, alimony, monetary award, and disposition of marital assets, based on the facts of your particular case.
Attorney Gaillard can assist you regardless of whether your matter involves consent and a separation agreement or whether your matter is contested and high conflict. She and her staff will make sure that you keep informed about court orders, consent agreements, settlement conferences, mediation, modifications, and other matters that arise in divorce matters. Speak with Attorney Gaillard about how she can use her knowledge and experience to help you understand your options when it comes to divorce, both in and out of court.
Whether you are planning to separate or are in the throes of a divorce, you want the knowledge, guidance, and expertise of Robin Rucker Gaillard, Esquire, working for you. Working with an experienced family law attorney ensures that you will understand which type of divorce fits the circumstances of your case. Attorney Gaillard will zealously protect your rights in court and work toward and equitable resolution of your family law matter. If children are involved, she will work to ensure that their best interests are protected. Robin Rucker Gaillard, Esq., is a well established and well-regarded Maryland divorce attorney serving the following counties:
Prince George's County; Charles County; and Calvert County
Queen Anne's County; Anne Arundel County; and Howard County
Baltimore County; Montgomery County; and Frederick County
Client Reviews







Contact Us
1

Knowledgeable Counsel

2

Sound Guidance

3

Effective Advocacy
Please call us at
(301) 363-2933
to schedule your initial consultation.