Adoption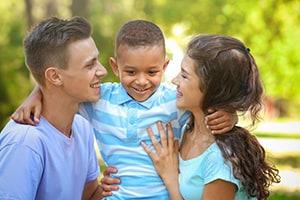 If you are completing your family through adoption, let us assist you with the process every step of the way. The law of adoption varies from state to state and also depends on the process you choose to adopt a child: whether through an agency or from the birth parents. The latter is a private adoption.
If you are involved in a private adoption then it is imperative that you have a good lawyer to shepherd you through the many requirements before your adoption can be finalized Maryland. The Law Office of Robin Rucker Gaillard, LLC can help you understand how to get from guardianship and custody to final adoption, and all of the points in between. We will help you understand the rights and responsibilities under Maryland law of the birth parents and the adoptive parents, then take care of the legal filings necessary to finalize your private adoption. A mountain of paperwork and compliance with intricate requirements should never stand in the way of an appropriate adoptive family. Let us do the work so you can concentrate on preparing to be loving parents to a child who will complete their family.
Attorney Gaillard will clarify the laws regarding parental consent and what to do if consent is withheld at the end of the process or if there is an objection to the adoption even after the balance of the process is complete. Adoptive parents can arrange to be present at the birth of the child in a private adoption, or to play some other role in the birth, or devise a birth plan to cover other opportunities surrounding the child's birth. Parents can also decide to leave open the option of the birth parents locating the child after adoption, or having contact with them after the child is successfully adopted. Let us assist you with drafting an appropriate birth plan or an appropriate contract for post-adoption communication or for an open adoption.
Client Reviews







Contact Us
1

Knowledgeable Counsel

2

Sound Guidance

3

Effective Advocacy
Please call us at
(301) 363-2933
to schedule your initial consultation.